OK, I'm not an athlete. At least not right now, because I'm not really training these days, nor was I when these pics were taken. I was just cutting to minimize bodyfat, and did not had access to a gym, so I was basically just doing some bodyweight exercises. And gaining huge size wasn't my primary goal at all. But I always got lots of energy on a vegan diet, with sufficient calories, so I can easily make 100km bike rides and recover quickly. I want to get back to training, especially weightlift training in a gym, I liked that. Perhaps also some martial arts classes.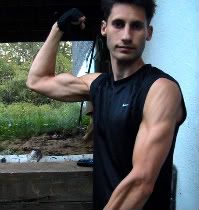 Anyway, I'm just showing these to show that the bias against vegetarians and vegans telling that they are weak, too lean, not strong, etc, is in fact just a bias, based on ignorance. Everybody wants to be lean, but then they accuse vegans to be lean ?? There are obese vegans too. But there are certainly more obese omnivores, with all the cholesterol and sat. fats in dairies in meat. Veganism is in fact the optimum diet to achive superior physic and mental skills. Eating corpses can surely be only detrimental to health and fitness.
I like this comment from someone on the web :
gyms I've been (…) are filled with skinny rats who stuff themselves with corpses to try (to) get big -- Mik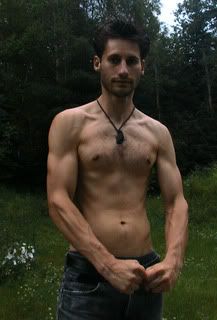 Like I said, I'm not a real athlete, watch
THIS LINK
to see real vegetarian and vegan athletes.